If there is one day that epitomises the need to say "yes" to our children, to "let go" of what
we
think is right and go with the flow...it is the day of putting up the Christmas tree!
I'm not a control freak. Really, I'm not. Except that I have certain ideas about how I want things done. Like decorating the Christmas tree. OK, so maybe I am just the teeniest bit of a control freak. But I know lots of you out there in blogland are nodding your heads in knowing agreement with me! I have this vision of how I want the Christmas tree to look like. I blame the catalogues and morning TV:
I could go nuts and follow the instructions from the best in the business:
And there are lots more on YouTube where that one came from!!!
I do have to admit that I have three "themes" of Christmas tree decorations in my Big Box of Decorations - red/green, blue/silver and new this year - purple/silver (I bought them before I read Miss Minimalist and got all 'less stuffy'). I dream of big beautiful trees with colour coordinating decorations all symmetrically placed and aesthetically pleasing.
And then my kids want to help.
This is obviously the crucial decision making point in which I have to
let go.
I know Christmas is (in part) about the joy of children. So I have to let go of my dreams and idealistic visions and....let them help me decorate the tree. Without bossing them about. It's not as easy as it sounds! I have to get to "yes" and let them fully participate and have fun and
put whatever decorations they want wherever they want
(breathe in,
let;
breathe out,
go).
I am a little sneaky I admit. I try to get out the ones I want and not put out all the other ones that won't fit in with this year's "theme". But they go to my Big Box and start pulling out all these uncoordinated decorations and putting them up all over the place and so the tree doesn't look symmetrical and is in danger of collapsing under the weight of tinsel. So I smile, give up and let them go for it.
On the plus side, they are getting "better" at this as they get older. They have a better "eye" and stand back occasionally and check to see how the tree is looking. I have hope! And in the meanwhile, we all have a tree that we love. And lots of decorations that we have collected over the years that we love (many of them sent with love from Ohio!).
Every tree needs a Christmas wombat!
Little Drummer Boy
King Herod
Video Boy's "family" of tree decorations
Video Boy was a baby once!
I wasn't coping well when
Wombat Girl had her first Christmas...
so, no baby photo of her.
This angel has been in my family since I was
a baby. She makes an appearance
every year
I love this maple leaf from Jane in Ohio!
The tree may not be fit to go in a catalogue, but it's our tree in our house and we love it. Even with the big blue and gold over-sized bauble in the middle. Even with that :-)
Nearly done...
...but we always need hubby to do the final touch!
No Ordinary Moments is hosting a "share your ornaments" linky: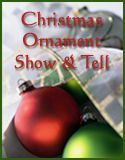 So I have added this post over there! Go check out all the other good ornaments!