Up early because we had another busy day planned!
Now all you northern hemispherians may well laugh (or I prefer to think, be intrigued) by the Aussie accent and quite possibly the New Zealand accent doesn't sound all that different. I often get asked if I'm a Kiwi, because apparently my accent sounds a little like theirs. But I really struggled to pronounce most of the Maori words, because I can't seem to fit enough vowels in the worlds!
Wellington
is located on the south end of the North Island and cops all the wind travelling across the Tasman Sea. Hence the nickname Windy Wellington (although obviously the website is trying to promote a more upmarket image - the Capital of Cool!). It certainly was windy when we visited! And to my ears it sounds a lot more like Wendy Wellington (as well as "fesh and cheps" instead of "fish and chips", and "sex" for "six"!).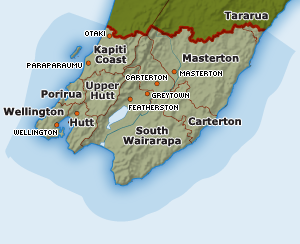 As we perused the list of things to do in Wellington, we again came to the conclusion that we wouldn't be able to get to all the things we wanted to see and would have to make some hard decisions. So as we caught the shuttle bus into town, we decided first things first - so we travelled up the hill on the cable car!
Right outside the top of the cable car was the
Botanic Gardens
. It was early, so we took a stroll. I was thinking that some of the plants looked really familiar, and then I found we were in the Australian section! We came all that way to look at plants we can see at home! The kids utilised their excellent map reading skills to take us to the playground (surprise!) - and it was a pretty good one too!
Human sundial - it works!
Amazing pine trees - they were HUGE!
Best playground "ever"
Where to now?
We were waiting for the
Carter Observatory
to open at 10am. Cool! Basically a space museum! We had a great time looking at all the exhibits on space, the solar system, galaxies and universe, and space exploration. They then had an "imax" type movie and planetarium to view - nice to get an idea of the constellations in this part of the world.
The old observatory
My very own space oddity...
Learning happens all the time!
Loving all things Einstein related!
Which toilet would you use?
Video Boy in his space module!
Motor skills in space....
You can look through this at night
So after a few hours of all things space, it was onto our next adventure! We caught the free shuttle bus to
Zealandia
- think New Zealand's very own Jurassic Park!! It is an eco-sanctuary which is fully fenced to protect the inhabitants from predators. It has an indoor exhibition, which we did not manage to fit and and then you can go through the gates to sanctuary itself.
It has all the major rare and endangered animal species of NZ present - tuatara, kaka, sirocco kakopo, takahe and kiwi, as well as many fantastic interpretive activities. They have a 500 year plan to bring the sanctuary back to it's original, pre-human state. We loved Zealandia!!
Takahe
Kaka
Can you see the fence?
We really wanted to get down to see the
Te Papa
museum, as is it meant to be amazing, but you can only so much in one day and that will also have to be one of the things on the "to do" list when we come back
We had half an hour before the last shuttle bus back to the ship, so we had a wander around the wharfs and shops of Wellington - a beautiful afternoon and a beautiful city! We really could have spent more time here!